Good Afternoon Friends,
Sunday Sermon 05/28/2023 | 10:00 am
"A lion's cub is Judah; from the plunder you have gone up, my son. He crouched, he lay down like a lion, and like an old lion; who will rouse him?" Genesis 49:9
We can view Genesis 49 as a kind of crescendo in the story of Jacob and Joseph. Jacob, while old and fading, nonetheless summons his wits to declare a closing benediction. With this farewell address to each of his sons, Jacob sets out an order and a plan for the people of God. Some emerge more favored than others. All are endowed with a sense of their future and the character of their progeny. Deeply within are contained prophecies of an age to come – revealing the work of the Messiah, the Lord Jesus Christ.
Come join us in person or online:
https://www.youtube.com/c/TheNewChurchatBoyntonBeach
Love desires conjunction at all times. In fact, we are told that the Divine love, if it were by itself, would draw all to itself in heaven. But true love, least of all the Divine love, is never "by itself." It cannot but act according to wisdom. Hence the bending and accommodation of the Divine love in order to turn to the best whatever man in freedom–or folly—initiates.
Rev. Erik Sandstrom (Sr.) from New Church Life, 1980.
Bible Study
NOTE OUR NEW TIME: 9:30 am, Tuesday, May 30
We cannot seem to emerge from our reading of Genesis 45. Joseph reveals himself to his brothers and sets the stage for the reunion to come. We've had great conversations. Our physical space in the Community Center and on Zoom have room for more people, so we welcome you to join us!
Zoom link | Meeting ID 444 057 6695 | Passcode: 1770
Theistic Science
Meeting every Monday at 10:00 am.
Zoom link | Meeting ID 444 057 6695 | Passcode: 1770
Image Gallery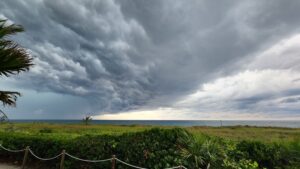 Delray Beach Sky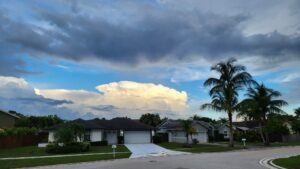 Scene from an evening walk in the neighborhood